After weeks of rumors and speculation, Shelton Benjamin has finally made his return to WWE television, when Daniel Bryan introduced him as a new tag team partner for Chad Gable.
He came back to a huge pop (and an amusingly disappointed sounding groan when it was announced his actual in ring return wouldn't be taking place until next week), and is blatantly still massively over with the fans. This shouldn't be surprising. His return has been on the cards since the brand split last year, but it was announced that he would be out of action for a year after WWE discovered in his physical that he had a torn rotator cuff, and we've been yearning to see him back ever since.  He's considered by many to be one of the most under-rated wrestlers from the ruthless aggression era, as his tremendous athleticism and physical ability often created matches that were fast paced and exciting to watch. As the saying goes, absence makes the heart grow stronger, and now that he's finally back after a seven and a half year absence from a WWE ring, we couldn't be happier to see the veteran back. To celebrate, we've rounded up the best (and for balance, also worst) of Shelton Benjamin's career in WWE.
The Best:
The World's Greatest Tag Team/Team Angle
Benjamin was clearly destined to do great things in WWE, as he and Charlie Haas were put with one of the greatest of all time in Kurt Angle as part of one his first significant runs on the main roster. Known as "Team Angle", the trio worked terrifically together, as they all had a similar athletic style and amateur wrestling background, and generated a great deal of heat during their time together. Haas and Benjamin won the WWE Tag Team Championships for the first time whilst in this trio, and defended them successfully in a triple threat tag team match at WrestleMania 19. They lost the titles a month and a half later, and were fired from Team Angle in June. However, Haas and Benjamin continued as "The Worlds Greatest Tag Team" and found further success, winning back the WWE Tag Team Championships for another two months (ended only due to Benjamin sustaining an injury), before having another WrestleMania  appearance with each other at WrestleMania 20. They were a joy to watch in the ring and this period set up Benjamin perfectly for a strong singles run.
His Catalogue of Awesome Money in the Bank Ladder Match Spots
Even when Benjamin's momentum was slowing, he always had a big spot come WrestleMania because he was always involved in the Money in the Bank ladder match. Benjamin competed in five out of the first six Money in the Bank ladder matches before he left WWE in 2010, and had a spectacular spot in all of them. The highlight and best known of these spots (shown in gif form above) is from the first ever Money in the Bank ladder match at WrestleMania 21, where he ran up two sets of ladders to clothesline Chris Jericho from the top of the ladder to prevent him from taking the briefcase.
As well as this, he has ran up a ladder that was leaning on the ropes to jump outside the ring taking out three wrestlers, he's powerbombed two wrestles off a ladder at once, and fallen off a ladder, going through another ladder that was perched between the ring and the barricade. Wow.
Although Benjamin was rarely considered a likely winner of these matches, and it soon became obvious that his inclusion in them was purely to accommodate these big spots. His Money in the Bank spots pretty much became a customary inclusion by the latter end of his run, but this was great. It meant that even when his WWE career had began to stall, you could guarantee he'd still get a chance to shine at WrestleMania, even if WWE were running out of ideas on what to do with him. Fans didn't mind this either because when those spots came along they were nothing short of spectacular, and helped make the matches memorable, often stealing the show at WrestleMania as a result.
His Feud With Triple H & Evolution
Shelton Benjamin began his singles run in 2004, after the draft moved him to Raw, subsequently splitting him up from partner Charlie Haas. However, if his run with Team Angle placed a rocket on his back, then his first singles feud lit that rocket and sent him flying into orbit. In his Raw debut he picked up a singles win over Triple H, who was experiencing one of his best periods at the time during his run with Evolution, and seen as the top guy in the company, so picking up a singles win against him at this time was a big deal. He got a massive pop when picking up the win, and was immediately established as a future star with a big future, and as someone to be taken seriously on the roster.
He then began to feud with Evolution, who still had Randy Orton on their side. He even went on to pick up another two wins against The Game, and although one was by DQ, and the other by count out, he was still made to look strong, and had a 3-0 record against one of the best wrestlers in the company to boast. In the remainder of the feud, he also picked up a pinfall victory against Ric Flair at Backlash, and had a terrific series of matches with Randy Orton, who was also an emerging young talent at the time, and was holding the Intercontinental Championship. Although Benjamin lost his Intercontinental Championship bout with Orton at Bad Blood, he wouldn't have long to wait for his turn at holding the prestigous singles belt.
His record Intercontinental Championship Reign
Benjamin got another Intercontinental Championship shot against Chris Jericho, after he was voted for by the fans to get the shot at Taboo Tuesday, the first in a series of pay-per-views which allowed fans to vote for what they wanted to see happen in the PPV. It's fair to say that on this occasion they made the right choice. Benjamin won the belt from Jericho and would go on to hold it for 244 days, the longest run with the belt of the decade, and what is currently the 8th longest single reign in the belt's history. This reign truly was some of the best days of his career, he'd have great defences and feuds against stars such as Christian. He'd eventually lose it to another up and comer making his debut: Carlito, and had a short feud with him over the title. He'd go on to capture the belt another two times, with all of his reigns combined lasting 354 days, the twelfth most in history, although the others wouldn't quite hit the heights that this reign did. If you want to see Shelton Benjamin at his best, than these days are the ones to check out.
The Worst
His Losing Streak
It would be fair to say that WWE didn't capitalise on Benjamin's strong run with the belt as well as they could've. He came out the other end of his title rain hotter than the surface of the sun, and looked ready to be pushed up the card. Having proven his ability in the mid-card, he wouldn't of been undeserving of entering a rivalry with a main event talent, or perhaps even a shot at the WWE Championship. However this didn't happen. Instead they sent him on a losing streak. Riiiiiiiiight.
It's hardly the push of the century is it? Despite proving his worth in the mid-card, he wasn't given the opportunity to shine in the main event. This may of been a time when WWE had a pretty stacked roster, and there were plenty of good wrestlers for Shelton to compete with. It was also at the time in which John Cena was in the ascendency, so even if WWE decided Benjamin was worth a push, there wasn't really room for any other big babyfaces at the top of the card.
Still, there had to be a better option than just making him lose every week, how often does that ever work? Supposedly, it's meant to build sympathy towards the character so that the crowd get behind him to pick up a win, and giving him a bigger pop than usual when he finally gets that win. This rarely actually happens though, more often than not, it just serves to make them look weak, and its hard for fans to buy into someone like that. Your favourite is often your favourite because you think they are the best wrestler. If they are losing all the time, that's not going to make people think they are the best wrestler, so why would they cheer them? This run really wasn't the best way to capitalise on the momentum he'd built as Intercontinental Champion, and destroyed all of the work that had gone in to making him to look strong since he started his singles career. At this point, you'd think surely anything that gets him winning again would be an improvement right? Well…
"Momma"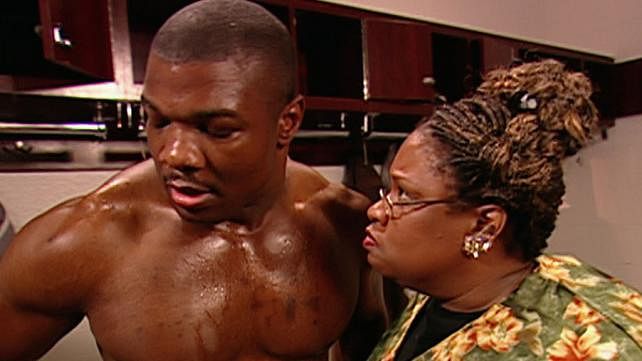 Towards the end of this losing streak, Shelton Benjamin was accompanied to the ring by the comedic actress Thea Vidale. Accept she wasn't playing herself, she was playing Shelton Benjamin's "Momma". She was a loud, and sassy character who every week would accompany Shelton to the ring, and would be involved in a number of comedic backstage segments. She'd shout at Benjamin throughout his performances and gave him one hell of a tongue-lashing whenever he lost, which led to her eventually getting involved in Shelton's matches to help him win, meaning he turned heel as a result. The angle finished in aptly ridiculous fashion, with Momma FAKING A HEART ATTACK – seriously – to distract the officials, and allow Shelton to cheat to defeat Ric Flair and regain the Intercontinental Championship. This was Momma's last appearance, with Shelton next week saying that Momma was having surgery, and that this was Ric Flairs fault.
In all fairness those involved did their best to make the angle work, and in some ways pulled it off. Vidale played the character well, and Some (and it is only some) of the backstage segments with Momma were funny, although I'd advise you to be very careful about which clips you choose to watch if you're considering looking them  up, as some were a little embarrassing.
Although those involved certainly made the best of it, the  word embarrassing probably is the most appropriate word to describe this storyline. Somebody who two years ago beaten Triple H clean in his first singles match now needed his Momma by his side to pick up a win. Hanging around with your mother is considered pretty uncool by 14 year olds, never mind a professional wrestler.
Now that Shelton Benjamin is back, it's hard not to think about the different mouth watering encounters that could be possible. Although he is a veteran now in his early forties, it would be great to see him get one more strong singles run. Who wouldn't want to see him take on the likes of AJ Styles, Shinsuke Nakamura or Sami Zayn? We may not be seeing any of these for a while as he's clearly going to be working with Chad Gable. This still should be good however as his style is well suited to working with Gable, and it's an effective way of helping to rebuild Gable after having been split from tag partner Jason Jordan.
What are your favourite memories of Shelton Benjamin's career? Did we miss it? Let us know in the comments and tell us who you'd like to see him have a match with now he's back in WWE.
Also, if you liked this article don't forget to give it a like and a share, it really helps us out!
Main image source: WWE